What Is a Smile Makeover?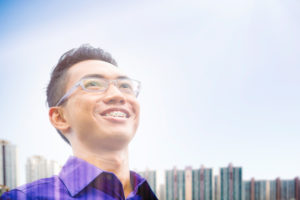 The term Smile Makeover has become somewhat common in cosmetic dentistry. But what does it mean; what does it entail? Most importantly, what we want to know when discussing a smile makeover is what it can do for us. Here, we provide the details that can help you better understand this comprehensive and immensely beneficial cosmetic process.
You know that your smile says a lot about you. All it takes is a few seconds of showing your teeth – or hiding them – for others to subconsciously speculate about your character and personality. Such a brief moment in time for such an enormous impact! Maybe you think you're used to the appearance of your teeth; the dullness or staining, that crooked tooth at the side of your smile. If you avoid observing your smile or avoid smiling altogether, chances are you are plagued by feelings of dissatisfaction. Many of the people we meet for Smile Makeover treatment don't even realize the extent of suppression they have felt until we bring beauty to the forefront.
What a Smile Makeover Can Do
The ultimate goal of a Smile Makeover is to make your smile the perfect feature for your face. How do we do that? First, we accomplish specific goals by getting to know your smile and your facial symmetry. Dr. Mulder performs a thorough consultation and examination that creates familiarity and understanding. Then, we set out to revamp your smile by . . .
Reviving radiance. Tooth color is one of the primary aspects of beauty, according to research. Because staining is so common due to the foods and beverages we consume, teeth whitening is one of the best treatments to make over the smile.
Correcting and perfecting alignment. The way teeth line up can present cosmetic and oral health concerns. To correct alignment and spacing doesn't have to mean braces. When possible, we may create an illusion of alignment with porcelain veneers or crowns. Invisalign may also be an option for more significant misalignment.
Replacing teeth. If one or more teeth are missing, there is a chance for further cosmetic degradation due to shifting. A porcelain bridge may be a great way to rebuild an arch. Dental implant treatment is also a popular method of tooth replacement.
In the end, your smile should be proportionate to your face and your complexion. The procedures involved in a Smile Makeover are tailored to this desired outcome. From laser gum contouring to elongate teeth to removing stains to covering chips, Dr. Mulder uses careful techniques and an artistic eye to achieve a smile that is all yours. For more information on Smile Makeover services, call our Grand Rapids office at 616-458-0631.
Posted in: Smile Makeover