Porcelain Veneers
You can have the smile you've always wanted by using convenient and natural-looking porcelain veneers. Veneers from Dr. Mulder are a popular solution to crooked, cracked, or discolored teeth.
What are Porcelain Veneers?
Instead of reconstructing the entire tooth, we simply design a "tooth face" made entirely of porcelain to fit on the front surface. A thin, finely-shaped veneer is created to give you the smile improvement you request and then bonded to the tooth for ultimate strength. The bonding substance is a super-strong and safe adhesive which becomes a part of the natural tooth, along with the veneer.
Am I a Candidate for Porcelain Veneers?
Veneers usually work well for patients with healthy teeth who just need a little cosmetic change. Dr. Mulder will need to evaluate your current dental health before making a treatment recommendation.
Dr. Mulder's porcelain veneers can correct:
Crookedness
Discoloration
Teeth that look too short
Chips or cracks
Gaps between teeth
Wear due to clenching, grinding, or old fillings
Schedule your free smile evaluation today to find out if porcelain veneers are right for you.
Porcelain Veneer Procedure
The application of veneers is painless and easy. But if you're a person who feels high-anxiety at the prospect of a dental visit, you may opt for conscious sedation so that you'll be drowsy and relaxed throughout the procedure.
What makes the procedure especially fast is our incredible CEREC technology. CEREC stands for Chairside Economical Restoration of Esthetic Ceramics. It's a trade name for CAD-CAM technology.
CAD-CAM refers to "computer-assisted design, computer-assisted manufacture". Our CEREC unit can both design and mill your porcelain veneers, using the information that Dr. Mulder gives it. It can also make porcelain crowns or inlays and onlays.
Veneers Before and After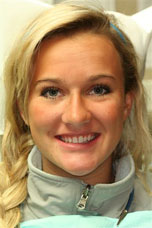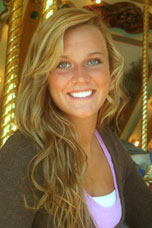 Click here to view more before & after photos.
*Individual results may vary
Porcelain Benefits
Porcelain makes such a great material for cosmetic restorations and veneers because it is strong, stain-resistant, and translucent. It allows us to close gaps, straighten and whiten teeth instantly. It also absorbs and reflects light the same way that natural enamel does. Dr. Mulder can match your porcelain veneers to your natural tooth shade. Veneers done well are virtually indistinguishable from natural teeth!
Porcelain Veneers Side Effects
Patients may experience some sensitivity to hot and cold after placement of their veneers. The sensitivity is due to the removed enamel on each tooth. This is very common and typically dissipates within 2 weeks.
Porcelain Veneers Maintenance
Veneers should be cared for as if they were natural teeth. They should be flossed and brushed regularly using a non-abrasive toothpaste. With proper care, patients can experience long-lasting results with their new smile.
Schedule a Consultation
To learn more about Porcelain Veneers or to schedule a consultation with Dr. Mulder at our office in Grand Rapids, please call 616.458.0631. A Life of Smiles serves Grand Rapids, Muskegon, Holland, and surrounding areas in Michigan.