Porcelain Veneers
Grand Rapids Porcelain Veneers
Treating Patients in Grand Rapids, Muskegon, Holland, and Surrounding Michigan Areas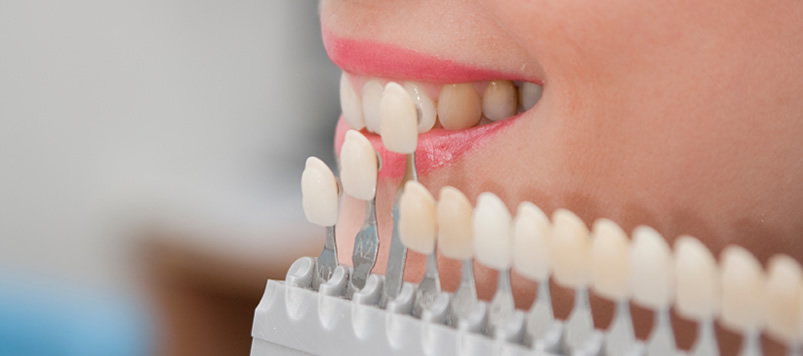 You can have the smile you've always wanted by using convenient and natural-looking porcelain veneers. Veneers from Dr. Mulder are a popular solution to crooked, cracked, or discolored teeth. Instead of reconstructing the entire tooth, we simply design a "tooth face" made entirely of porcelain to fit on the front surface.
A thin, finely-shaped veneer is created to give you the smile improvement you request, and then bonded to the tooth for ultimate strength. The bonding substance is a super-strong and safe adhesive which becomes a part of the natural tooth, along with the veneer.
The application of veneers is painless and easy. But if you're a person who feels high-anxiety at the prospect of a dental visit, you may opt for conscious sedation so that you'll be drowsy and relaxed throughout the procedure.
Dr. Mulder's porcelain veneers can correct:
Crookedness
Discoloration
Teeth that look too short
Chips or cracks
Gaps between teeth
Wear due to clenching, grinding, or old fillings
Porcelain and CEREC
We use porcelain exclusively at our practice because it looks and feels like natural enamel. It allows us to close gaps, straighten and whiten teeth instantly. Porcelain is also quite stain-resistant, so coffee-lovers rejoice!
What makes the procedure especially fast is our incredible CEREC technology. CEREC stands for Chairside Economical Restoration of Esthetic Ceramics. It's a trade name for CAD-CAM technology.
CAD-CAM refers to "computer-assisted design, computer-assisted manufacture". Our CEREC unit can both design and mill your porcelain veneers, using the information that Dr. Mulder gives it. It can also make porcelain crowns or inlays and onlays.
Porcelain Veeners FAQ
Am I a good candidate for porcelain veneers?
Veneers usually work well for patients with healthy teeth who just need a little cosmetic change. Dr. Mulder will need to evaluate your current dental health before making a treatment recommendation. Schedule your free smile evaluation today to find out if porcelain veneers are right for you.
What advantages does porcelain offer?
Porcelain makes such a great material for cosmetic restorations and veneers because it is strong, stain-resistant, and translucent. It absorbs and reflects light the same way that natural enamel does. Dr. Mulder can match your porcelain veneers to your natural tooth shade. Veneers done well are virtually indistinguishable from natural teeth!
---
CEREC Restoration FAQ
How does CEREC create a restoration?
After the damaged enamel is cleaned out, the tooth surface is prepared. A highly magnified photo is taken and sent to the computer. Dr. Mulder uses this 3-D digital image to design your new restoration, whether it's a crown, an inlay, or an onlay.
Then he chooses a shade of porcelain that matches your natural teeth from which to make the restoration. The CEREC milling machine shapes the raw porcelain to Dr. Mulder's specifications, so that it will fit your tooth exactly. After placing and bonding it in position, Dr. Mulder will polish it to a glossy finish.
Which restorations can CEREC be used for?
CEREC may be used to create porcelain veneers, inlays and onlays, and crowns. Visit Dr. Mulder for your smile evaluation. If you need any of these procedures, you'll be amazed at how quickly and esthetically they'll be done using the CEREC system.
How long will my CEREC appointment last?
Most treatments using CEREC will take about an hour and a half, possibly longer if more than one restoration is being crafted.
Will my CEREC restoration look as good as a handcrafted restoration?
There's no reason why a CEREC restoration shouldn't look as good or better than a lab-fabricated one if an experienced and skillful doctor is at the helm. CEREC has become popular in premium dental offices around the nation not only for the convenience it offers, but also for its ability to create high-quality, natural-looking restorations. The CEREC software is very technologically advanced, but its final results depend on how well the dentist uses it. Dr. Mulder has excellent training and a great deal of experience using it, and you'll be very pleased with your new teeth.
---
Are you ready to rejuvenate your smile with beautiful porcelain veneers? Call us at 616.458.0631 or email our Grand Rapids office (also serving surrounding communities such as Grand Haven and Kalamazoo) for your personal smile evaluation with long-time cosmetic dentist Dr. Jerry Mulder & Allyson Mulder.
---