Comfortable Dentistry
Grand Rapids, Muskegon, Holland, Michigan
The dental drill, with its alarming sound, has characterized dental offices for most people since the 1940s. But in recent years, the dental profession has made huge strides in transforming their offices and services. No longer is a dental office a bleak place where we go to have unpleasant procedures done for our own good. Today, a cosmetic dental office is more like a spa.
And comfortable dentistry means more than just physical comfort. Here's how we like to pamper you at Dr. Mulder's dental offices in Grand Rapids: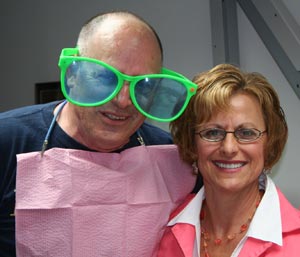 We take great care to make you completely at ease with your surroundings during your dental treatment. You can find out what amenities are available on our Patient Experience page.
In keeping with the theme of "comfort", we want your wallet to be comfortable also. Dr. Mulder offers several payment and financing options so you can get the dental care you need without financial stress.
For those who experience high anxiety or fear when visiting the dentist, our one-pill conscious sedation can turn a stressful visit into a pleasant, relaxed one. Read more about sedation dentistry.
Dr. Mulder believes that communication is the key ingredient in keeping his patients comfortable. To learn more about that, please visit our Dealing with Dental Anxiety page.
We want you to know exactly what to expect. Take a Virtual Office Tour for a preview of our comfortable facility.
---
You can learn more about comfortable dentistry at Dr. Jerry Mulder's & Allyson Mulder offices in Grand Rapids by calling 616.458.0631 or emailing us today for your smile evaluation.
---