Full Mouth Reconstructive Dentistry
When teeth are chipped, decayed, discolored, broken, or altogether missing, it is nearly impossible to feel good about the appearance of your smile. Furthermore, dental problems are usually painful. If you are ready to smile, speak, and eat comfortably and confidently, you may be ready for a visit with your reconstructive dentist. We would love to see your smile in our Grand Rapids office, where we can tailor a treatment plan to your unique needs.
What is Full Mouth Reconstruction?
Full mouth reconstruction is an artful combination of restoration and esthetic procedures that is conducted with a strong vision of outcome. When we conduct this process, our focus expands beyond the appearance of teeth to also attend to structural problems that are preventing you from optimal comfort.
Am I a Candidate for Full Mouth Reconstruction?
Full mouth reconstruction is an excellent treatment option for individuals who have extensive dental problems that require more comprehensive care. If you have multiple missing teeth or numerous teeth that exhibit destructive decay, you may be a good candidate for full mouth reconstruction. This treatment protocol can also include the replacement of old or failing fillings and other restorations, restoration of badly worn teeth, and repair of cracks, chips, and other damage. A full mouth reconstruction is also an option for individuals with congenital anomalies that have affected dentition.
Full Mouth Restoration Benefits
The final results from full mouth reconstruction can be life-changing. This is because treatment is not merely cosmetic; procedures are performed to repair major dental problems that could otherwise cause extended complications for health and wellness. Addressing these dental problems provides benefits such as:
Avoiding tooth loss.
Restoring structural support to the face through appropriate tooth replacement.
Correcting premature signs of facial aging affecting the lower third of the face.
Avoiding joint disease.
Alleviating unnecessary stress on the temporomandibular joints (jaw joints) and the symptoms that this stress causes, including frequent headaches.
Preserved or restored chewing function supports proper nutrition for general wellness.
Full Mouth Reconstruction Procedure
If you suspect you may benefit from full mouth reconstruction, Dr. Jerry or Dr. Allyson Mulder will conduct a comprehensive consultation to discuss your goals and preferences. A complete dental examination helps us gain the full extent of understanding about what may be needed to restore structural integrity and beauty to your smile. This initial assessment will involve digital x-rays and our innovative method of cavity-detection.
One of the exciting aspects of full mouth reconstruction is that your new smile is customized specifically for your facial structure, complexion, and even your personality. During the planning stage of treatment, we work together to identify your preferences in terms of the color of your teeth, their size and shape, and the finite details that make your face unique. Your input in this process is vital to achieving the outcome that you desire, and we are happy to partner with you to design the smile of your dreams.
The treatments that are involved in reconstructive cases vary from one person to another. We may discuss options such as dental implants, bridges, or dentures. We will provide detailed information on cosmetic options such as porcelain veneers, dental bonding, or orthodontic care. Additionally, we will discuss a timeline for your entire course of care. Before your treatment protocol begins, you can expect to have all of your questions answered so you can proceed with a sense of confidence and excitement about your final results.
Before & After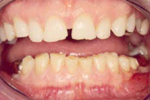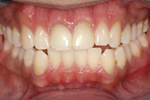 Click here to view more Cosmetic Dentistry Before & After photos.
Full Mouth Reconstruction Recovery
Because full mouth reconstruction may take place over time and several appointments, recovery occurs in spurts. For example, you may experience a few days of tenderness if your treatment protocol involves tooth extractions. As we plan your course of treatment, precise details related to the recovery from individual or combined procedures will be discussed.
Results
A reconstructed smile is more than attractive; it is a smile that feels comfortable when you speak, drink, eat, and go about your day. Ultimately, the end of pain, embarrassment, and chronic oral disease can improve your quality of life. Additionally, your reconstructive treatment involves an emphasis on lifelike restorations that support the most natural-looking results. This enables you to feel a sense of confidence that may have been missing for far longer than you've imagined.
Schedule a Consultation
Let's bring your best smile back. Contact our Grand Rapids office at 616-458-0631 to learn more about Full Mouth Reconstruction or to schedule a consultation.