Tips for Managing Dental Anxiety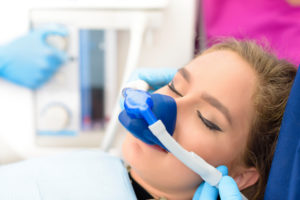 It doesn't take long for any dentist to realize that a large percentage of patients don't want to be in the dental chair. This is not a fact we shy away from. In fact, knowing that dental anxiety is very real – and very strong – in many patients drives us to provide the highest possible standard of care. When you visit our Grand Rapids office, one of the first things we hope you notice is our desire to create a comfortable, low-stress environment.
There are numerous factors that may lead a person to fear the dentist. Talking about past experiences is valuable. We encourage patients to speak with us about their fears, and even about where they originated. Sometimes, anxiety stems from a place outside of the dental office, and sometimes poorly performed treatment is to blame. Whatever the reason, talking about dental anxiety is the first step in reducing its hold over your oral health.
After acknowledging dental anxiety, there are positive steps that can be taken to make each visit better. 
Ways to Help Dental Anxiety
Bring your music along. One of the prime factors in dental anxiety is stimulation. There's no denying that the sounds of dental equipment are more than a little distracting! Dental offices typically pipe-in music to each treatment room, but there is something comforting about having familiar music right in your ears.
Avoid caffeine before dental visits. Caffeine is a stimulating ingredient that can easily fuel dental anxiety. Save that Cup O' Joe for after dental care to save your nerves from unnecessary reactivity.
Talk with us. Aside from openly discussing dental anxiety, know that you can talk with the dental team during exams and treatments. Sometimes, all that is needed to make patients more comfortable is a little space or break from care for a few moments.
Include sedation in dental procedures. We've got to say; sedation dentistry has got to be one of the greatest inventions ever. Why sit through uncomfortable anxiety when your dentist can provide you with a mild sedative to help you breeze right through whatever treatment you need?
Schedule a Consultation
Let's talk about dental anxiety and what we can do to help you stay current with necessary dental care. Call our Grand Rapids office at 616-458-0631.
Posted in: Sedation Dentistry