Wearing Invisalign? Congratulations! Now Let's Talk Oral Care!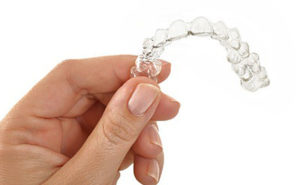 Invisalign is a popular treatment protocol for teens and adults of all ages. The very reason that this system is popular is the same reason it was developed in the first place: to give patients the ability to correct misalignment without having to suffer through the downside of braces. The way that Invisalign works, though, is by placing pressure on teeth from full-coverage aligners. But you can remove these aligners to make sure you're able to make the most of brushing and flossing (another reason for Invisalign's popularity!). As convenient and comfortable as this is, the fact that aligners are situated over teeth most of the hours in any given day can also spell trouble if you're not careful.
Your Teeth Need Care More Than Ever
Oral care is always an important aspect of health and wellness. This doesn't go away. There are times, in fact, when our teeth and gums need care to become even more purpose-driven. A course of Invisalign treatment is an example. Primarily, this relates to the nearly 24/7 wear of aligners. It may not seem like it, but this coverage could make it easier for oral bacteria to degrade enamel, leading to cavities. The bacteria that live in the mouth do not need oxygenation to thrive. The inner area of aligners is pretty much ideal for these microorganisms to do what they do, which is deposit acidic byproduct on teeth. Yuck!
If you or someone you love is undergoing Invisalign treatment, there is a lot to cheer about. At the same time, it is also important to remember the ultimate goal of treatment, which is to promote better oral health. Brushing needs to be performed morning and night at the very least. Even greater advantages can be gained by carrying a travel toothbrush in the car or a purse or backpack. This facilitates post-meal brushing. If brushing is not possible, Invisalign patients are advised to at least rinse aligners and the mouth with water after eating or drinking.
There are tons of benefits presented by Invisalign treatment. We are proud to offer this treatment to patients of our Grand Rapids office. More so, we love providing the support that is needed throughout the course of care so, at the end of treatment, results are even better than expected.
Call 616-458-0631 to schedule a consultation to see what Invisalign can do for you.
Posted in: Invisalign, Oral Hygiene