Snoring & Other Sleep Apnea Symptoms
Grand Rapids, Muskegon, Holland, Grand Haven and Surrounding Areas in Michigan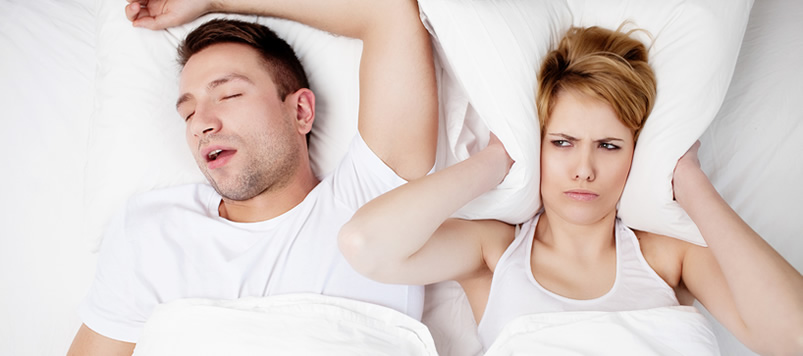 Snoring is sometimes just an annoyance, but loud regular snoring may be an indicator of sleep apnea, a condition suffered by tens of millions of Americans and one that can result in severe medical complications.
The Grand Rapids dentists at A Life of Smiles have extensive success helping patients stop snoring and allowing them (and their family members) to regain healthy, restful sleep. If you or a loved one is a chronic snorer who also experiences other symptoms discussed below, please call (616) 379-3159 to schedule your sleep apnea consultation.
Sleep Apnea Symptoms
Snoring is one of the most common symptoms of sleep apnea—particularly obstructive sleep apnea (OSA)—and it is typically accompanied by multiple symptoms that may include:
Daytime fatigue
Repeated stops in breathing during sleep
Episodes of waking from sleep gasping or choking for air
Inability to sleep through the night
Recurring morning headaches
Regularly waking with a dry mouth and/or sore throat
Difficulty focusing while awake
Because these symptoms can seem vague or go unnoticed by a person with sleep apnea, many people don't pursue diagnosis and treatment. Sleep apnea is a potentially deadly condition, and it's important to undergo an evaluation if you or a loved one is a heavy snorer who also suffers from other indicators listed here.
Sleep Apnea Health Risks
Sleep apnea can contribute to a heightened risk for a range of life-threatening health complications, notably cardiovascular problems. Sleep apnea has been associated with an increased risk for medical conditions including but not limited to:
High blood pressure (hypertension)
Stroke
Heart attack
Cardiac arrhythmia/atrial fibrillation
Sleep apnea can also lead to an inability to concentrate while awake and cause progressive changes in mood, including severe depression.
Snoring and Sleep Apnea Treatment
Though sleep apnea should be considered a serious health condition, there are treatment options available.
Our dentists have helped a number of patients treat snoring and sleep apnea with comfortable, form-fitting oral appliances. These devices are custom made for your unique bite, and they are designed to treat the source of your snoring and sleep apnea by allowing you to maintain an open airway as you sleep. Patients with advanced cases of sleep apnea may benefit from additional assessment or other treatments, such as continuous positive airway pressure (CPAP).
---
If you or a loved one snores loudly and chronically, please contact A Life of Smiles at 616.458.0631 to schedule your appointment. Our dentists welcome patients from the greater Grand Rapids, Holland, Muskegon, Grand Haven and Rockford, Michigan, areas.
---