Invisalign & Orthodontics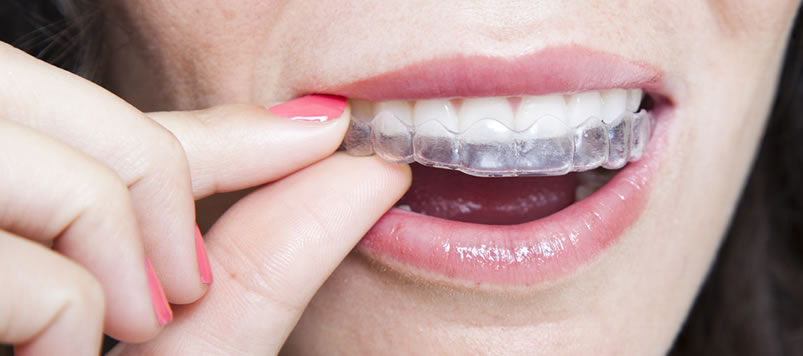 Grand Rapids Invisalign Orthodontics
Grand Rapids, Muskegon, Holland, Michigan
If you're searching for a way to straighten your teeth for a more beautiful and healthy smile, Invisalign treatment may be the way to go. Dr. Mulder can turn a crooked smile into a beautifully-aligned one with carefully planned orthodontics.
One of the latest and most popular orthodontic choices is the Invisalign solution. With Invisalign, you'll have the major advantage of discreet tooth straightening. No metal or wires in your mouth: Invisalign uses a series of clear plastic aligners to straighten your teeth gently and conveniently.
Permanently changing your smile with orthodontics is a gradual process that requires patience and commitment. For quick results and a non-orthodontic solution to misaligned teeth, try porcelain veneers, also known as "instant orthodontics."
---
Invisalign
Would you like to have straighter teeth, but dislike the prospect of wearing metal braces for a year or two to accomplish that?
With the invention of clear, removable aligners, Invisalign has broken barriers in the field of orthodontics. Grand Rapids residents are enjoying the obvious advantages of tooth straightening that doesn't mar their smile.
How does Invisalign work?
Teeth are moved into place over a specific time period, which is estimated up front, based on the assumption that you'll keep all your appointments and wear the aligners every day for at least 22 hours or so.
Dr. Mulder will first ensure that you have good dental health.
Then he'll determine exactly how much movement of which teeth will be needed for you to attain your best tooth alignment.
He'll take an impression of your upper and lower teeth, and using his Invisalign technology will plan how many pairs of aligners you'll need to achieve your best tooth positions.
The right number of aligners will be made for you, and you'll wear each one for two weeks.
At the end of each two weeks, you discard the current set of aligners and start wearing the next set, which picks up where the previous set left off.
Each set applies gentle pressure to move your teeth further toward their alignment goal. Every 6 weeks you'll have a visit with Dr. Mulder so he can check on your progress. Total treatment times usually fall somewhere between 8 and 18 months.
The aligners can be removed during eating, brushing, and flossing for a comfort unknown to traditional braces wearers. If you have a special occasion, such as a job interview, or getting married, you can remove the aligners for that time period.
Within a matter of months, your teeth will be straighter and your smile more vibrant!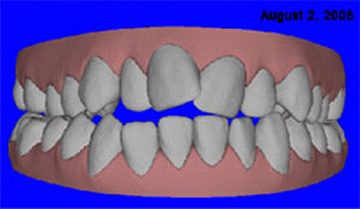 ---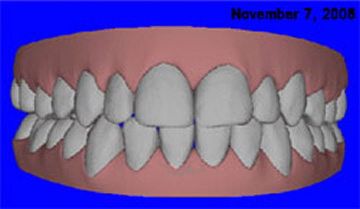 ---
Invisalign FAQ
Is plastic really strong enough to move my teeth?
Not everybody is a good candidate for Invisalign. But if you are, these clear aligners are as effective as metal brackets. Whether you need subtle or more dramatic straightening, Invisalign has proven itself as effective. To ensure the best results, make sure to comply with Dr. Mulder's wearing instructions.
How are the plastic aligners created?
After a thorough evaluation, 3-D technology is used to custom craft your aligners from impressions of your teeth which Dr. Mulder will take. Each set is shaped to apply slightly different pressures from the previous set, depending on your exact dental conditions, and the totality of tooth movement required.
Is Invisalign more expensive than metal braces?
The cost of your Invisalign treatment will be determined by the number of aligners you will require to reach your desired smile, and by the length of treatment time. The treatment is kept affordable with payment plans.
How long will I need to wear my clear braces?
The length of Invisalign treatment time can range from six or eight months to perhaps 18, depending on your exact dental circumstances. You can find out during your smile consultation with Dr. Mulder whether you'd be a good candidate for Invisalign, and if so, approximately how long it might take.
---
For Invisalign treatment in the Grand Rapids area, including Traverse City and Holland, MI, call or email the office of Dr. Jerry Mulder & Allyson Mulder. Schedule your smile evaluation to learn more about this amazing orthodontic advancement.
---