Now Accepting New Patients. Call Us at (616) 458-0631.
Our Friendly Staff is Here to Serve You!
Caring for Your Veneers
Cosmetic Dentistry in Grand Rapids, Michigan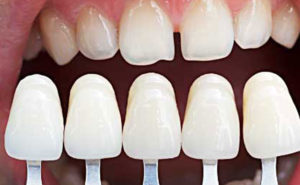 Porcelain is the ideal material for dental veneers for a number of reasons. Not only does this material look and feel like natural tooth enamel, it reflects light in the same manner, allowing for a completely unenhanced aesthetic. Better yet, while porcelain veneers work to greatly improve the quality of your smile, they do not require burdensome care or advanced daily maintenance. In fact, you can keep your veneers bright and strong by simply maintaining a thorough daily hygiene routine and visiting Grand Rapids cosmetic dentist Dr. Jerry Mulder every six months for routine cleanings and examinations.
If you live in or around Grand Rapids, Michigan and would like more information about the benefits of porcelain veneers, please contact A Life of Smiles online or by calling (616) 458-0631 to schedule your appointment with Dr. Jerry or Allyson Mulder.
Daily Oral Health Routine
There are no special steps required in caring for porcelain veneers. However, certain considerations are necessary to avoid scratching or damaging them. Abrasive toothpastes such as those containing baking soda can scratch veneers. So too can hard bristled toothbrushes. Both should be avoided following the placement of your porcelain veneers. Remember, dental veneers are resistant to staining, making abrasive cleaning unnecessary.
Mouthwash that contains astringent ingredients such as witch hazel and alcohol can loosen the bonding of any dental restoration. Other mouthwashes contain ingredients that can permanently stain veneers. If you enjoy using a mouthwash, Dr. Mulder will discuss which types are best during your cosmetic dentistry consultation.
Porcelain veneers cannot be whitened. Once stained they will need to be replaced. While veneers are stain resistant they are not impervious to discoloration. Taking steps to minimize staining can help extend the life of your veneers. Dr. Mulder would be happy to discuss common ways teeth stain and the most effective ways to avoid this issue during any of your regularly scheduled appointments.
To schedule your porcelain veneers consultation with our experienced Grand Rapids cosmetic dentist, please contact us today. We provide individualized cosmetic dentistry solutions for men and women living in Grand Rapids, Holland, Muskegon, and surrounding Michigan communities.
515 Michigan St. NE, #202
Grand Rapids, MI 49503
Back to Top